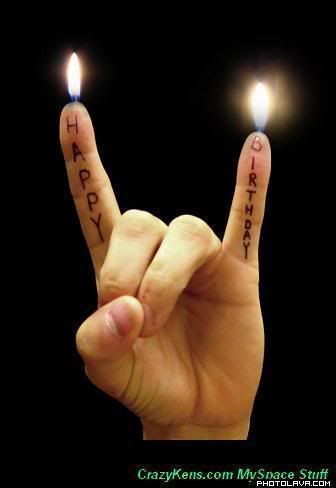 Yes, I'm stepping closer and closer to the abyss.
Right now –  at this VERY MOMENT OF 12:32pm PST – I just turned 28.
What?  You didn't hear anything?  Well, just imagine muffled screams mixed with maniacal laughter and you'll be close.  I go back and forth between looking at some aspects of my life and wondering how I did so little by this age, but then I look at others and remember how hard I've worked to get that far so fast.
I'm takin' the day off, so re-posting a meme type thing that Julie posted in her blog Julie's Journal last month on her birthday.
Famous people who share my birthday
Tom Brokaw, 1940 – Newscaster, NBC News
Bob Marley, 1945 – Singer
Babe Ruth, 1895 – Baseball Player, New York Yankees
Axl Rose, 1962 – Singer, Guns N' Roses
Ronald Reagan, 1911 – Actor, 40th US President
Rip Torn, 1933 – Actor
Natalie Cole, 1950 – Singer, Daughter of Nat King Cole
Famous Events that happened on January 3rd:
1865- Robert E Lee appointed Confederate General in Chief
1918- Britain grants women (30 & over) vote
1933- 20th Amendment goes into effect: Pres term begins in Jan not March
1935- "Monopoly" board game goes on sale for 1st time
1974- US House of Reps begins determining grounds for impeachment of Nixon
1981- Beatles McCartney, Starr & Harrison record a tribute to John Lennon (OK, "Brady Brides" also debuted on TV the same day, but the tribute seemed more important)
Famous Capricorns
Fredrico Fellini – Director
Geena Davis – Actress
John Belushi – Actor
Wolfgang Mozart – Composer
Opra Winfrey – TV Host
Charles Lindbergh – Pilot
Carl Berstein – Journalist